Below is the specifications and gallery for our 2014 Forest River R•POD Travel Trailer. This Trailer is one of our most requested models.  This trailer features all amenities packed into a light weight model and super easy to tow.  This unit will rent out very fast. If interested please reserve as soon as possible. If you would like to preview this unit please contact us for an appointment.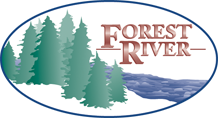 R•POD 182G Floorpan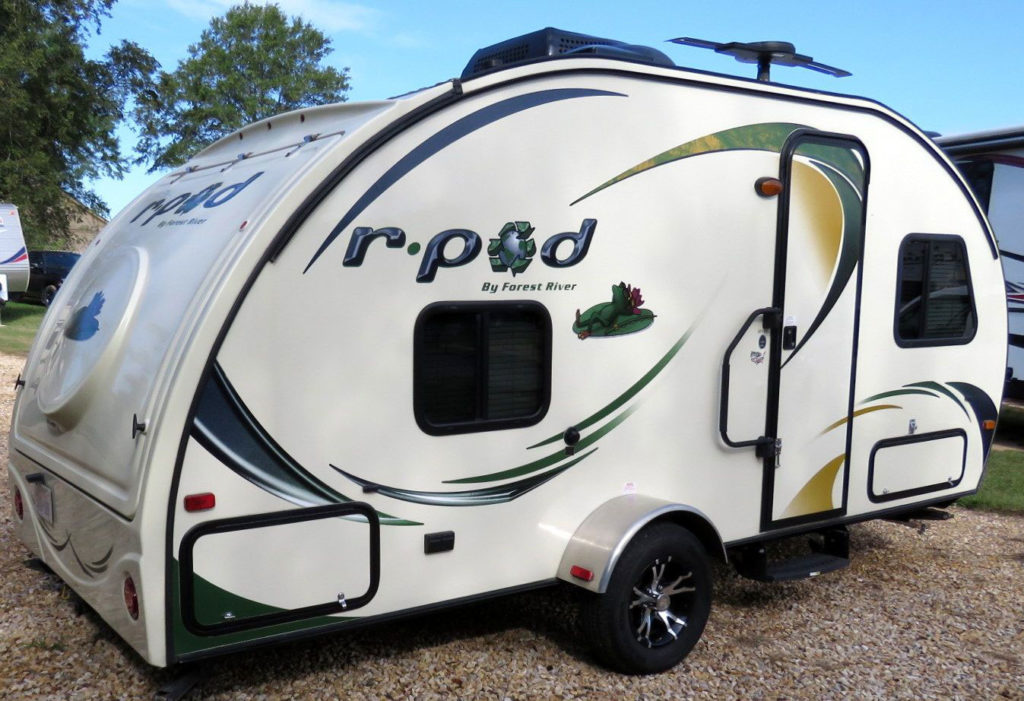 Gallery
Looking for a high quality lightweight small trailer to rent this is the ticket?
WELL ROUNDED
The r•pod is the first of its kind to offer you affordable luxury at the lowest weight in its class. R•pod, Where your journey begins.
Dimensions Length: 20 ft. (240 in.) Width: 8 ft. (96 in.) Height: 9.58 ft. (115 in.)
Weight Dry Weight: 2,766 lbs. Payload Capacity: 1,096 lbs. Hitch Weight: 379 lbs.
Holding Tanks Number Of Fresh Water Holding Tanks: 1 Total Fresh Water Tank Capacity: 36 gal. Number Of Gray Water Holding Tanks: 1 Total Gray Water Tank Capacity: 30 gal. Number Of Black Water Holding Tanks: 1 Total Black Water Tank Capacity: 30 gal.
Propane Tank(s) Number Of Propane Tanks: 1 Total Propane Tank Capacity: 5 gal. Total Propane Tank Capacity: 20 lbs.
Construction Body Material: Aluminum Sidewall Construction: Fiberglass
Slideouts Number of Slideouts: 1
Awning Number of Awnings: 1 Power Retractable Awning: No Screened Room: Yes
Leveling Jacks Leveling Jack Type: Front Manual / Rear Manual
Kitchen / Living Area Kitchen / Living Area Flooring Type: Vinyl Kitchen Table Configuration: U-shaped Dinette
Kitchen Location: Center
Living Area Location: Front
Oven / Stove
Layout: Stove Number Of Oven Burners: 2
Overhead Fan: Yes
Refrigerator Refrigerator Size: Compact
Refrigerator Power Mode: Propane
Beds
Max Sleeping Count: 4
Number Of Bunk Beds: 2
Number Of Convertible / Sofa Beds: 1
Master Bedroom
Bunkhouse: Yes
Bathroom
Number Of Bathrooms: 1
Bathroom Flooring Type: Vinyl
Bathroom Location: Center
Toilet
Toilet Type: Plastic
Shower
Door Type: Curtain
Wheels
Wheels Composition: Aluminum
Number Of Axles: 1
Rear Tire Diameter: 1.17 ft. (14 in.)
Tires
Rear Tire (Full Spec): 205/75 R14
Spare Tire
Spare Tire Location: Exterior Mounted
Brakes
Rear Brake Type: Electric Drum
Battery
Battery Power Converter: Yes
Battery Converter Amps: 55
Prewiring
Air Conditioning Prewiring: Yes
Cable Prewiring: Yes
Phone Prewiring: No
Heat Prewiring: Yes
TV Antenna Prewiring: Yes
Satellite Prewiring: No
Washer / Dryer Prewiring: No
Air Conditioning
Air Conditioning Type: Automatic
Air Conditioning: 13,500 BTUs
Heater
Heater Type: Automatic
Heater: 20,000 BTUs
Water Heater Tank
Water Heater Tank Capacity: 6 g
Water Heater Pump Power Mode: Electrical / Propane
Water Heater Tank Bypass: Yes
Emergency Exit(s)
Number Of Emergency Exits: 1
Radio
Number Of Radios: 1
Speakers
Speaker Location(s): Interior
Surround Sound: No
Television
Number Of Televisions: 1 (moves inside to garage)
Paint
Primary Color: White
Secondary Color: Not Available
Metallic: No
Interior Decor
Wallpaper: Yes
Interior Wood Finish: Yes
Options
Standard Package
R - dome Awning With Screen Room
Saddle Interior Decor
White Exterior Color
Java Interior Decor
Pebble Interior Decor
Convection Microwave
13500 BTU Low Profile Air Conditioner
Exterior Speakers
Reservation Information
Below you'll find information about our rates and fees, as well as everything else you need to know about renting from us.  In addition, you can check our booking calendar for availability and to help plan your vacation.  You can choose open dates, fill out the form and click send, we will receive your request and get back to you within hours, if not minutes.  Please note we will only hold dates with a reservation deposit.  Please contact us with any questions you may have.  We expect and appreciate renters to respect our property and treat it like their own.  Please call us to discuss your plans, we're happy to help in any we can.  We want to make this vacation as easy as possible for you.
Rental Rates:
We rent by the Day, Week (and month possible) High Season: Memorial Day Weekend through Labor Day Weekend. Daily Rate: $139.00 (3 night-4 day minimum) Weekly Rate: $750 (6 nights 7 days) Mid Season: After Labor Day Weekend throughs Thanksgiving Weekend Daily Rate: $105.00 (3 night-4 day minimum) Weekly Rate: $600.00 (6 nights 7 days) Low Season: After Thanksgiving Weekend through February 28th. Daily Rate: $84.00 (3 night-4 day minimum) Weekly Rate: $488.00 (6 nights 7 days) Monthly Rate: Please Inquire Holidays require minimum of 4 days rental Holidays:  Memorial Day, 4
th
of July and Labor Day: Rates Add $100.00 Mountain Home Country Music Festival:  Add $125.00 for Extra Cleaning, Pressure Wash and Filters.
Reservation Deposit
$250.00 per reservation due upon confirmation of dates and approval of rental. Balance of rental fees due on rental start date before walkthrough.
Security Deposit
Security deposit is $750. and is returned in full upon return of the RV in same condition following a complete check-in inspection.  The security deposit is due in full 2 days prior to the rental start date.  The commercial insurance policy has up to a $1,000. deductible.  If you damage the RV, your security deposit applies to the deductible. Please note:  Upon return of clean RV with no damages, security deposits will be returned in the following manner and timeline.  After RV check in, cash deposits receive cash back.  Security deposits will be refunded through Outdoorsey to avoid fees and interest.  Refunds can take up to 7 days to process.
Prep,Cleaning & Sanitization Fee
$95.00 prep, cleaning & sanitization fee per rental. This includes inside and outside cleaning. Also included toilet paper and waste tank chemicals.  If rental is returned in a very unclean state, there will be an additional $75.00 applied.  If upholstery & carpet is stained and needs to be steam cleaned, additional fees will apply.
Cancellation Fee
ALL CANCELLATIONS ARE SUBJECT TO A CANCELLATION FEE. By submitting your deposit you are agreeing to uphold your reservation. By Cancelling your reservation outside of 14 days of your reservation, there will be a Cancellation fee of $100. By cancelling your reservation within 8 - 14 days of your scheduled reservation date, you will forfeit your reservation deposit. Cancellations within 7 days will result in loss of your reservation deposit plus 20% of the reservation remaining balance. After delivery or check out, there will be no refunds or credits for early returns. Boise Family RV, llc reserves the right to refuse service to anyone.
Optional Costs:
Delivery (base rate $35 per hour) plus fuel at current cost at time of delivery.  Actual cost to be determined and quoted by location and time of rental. Please inquire. Full Kitchen Pack: Pots and pans, dishes, cooking and eating utensils, cups, kitchen towels, etc. $60.00 4 Camp Chairs with Side Tables & 1 Portable Table $25.00 2 Person inflatable pro Stearns 2 person kayak with paddles. (include medium safety vests and foot pump $35.00 Convenience Package $75.00 (we dump waste and refill propane)
Insurance & License
Must provide a valid drivers license.
Must be 25 years old to rent.
Commercial Renters Insurance is included with this rental. $1,000.00 + deductible applies to any damages. If the event of damages, the security deposit will be applied to the deductible.  Additional deductible fees may apply based on the amount of damage and repair costs.
Pick Up and Return:
Pick up and return to Meridian, Idaho. Times to be determined by each rental period and reservation by appointment. Please allow 45 minutes for walkthrough and 30 minutes for return check-in and inspection.
Late Return Policy:
The RV is due back no later than 5pm on your final rental day.  Late fees of $50 per hour will apply after 5pm.  We often have others renting out the same unit the following day and in some cases wanting to pick up the evening before.  Please be courteous by returning before the deadline and avoid additional charges.
Delivery:
We offer delivery services for an hourly and fuel fee.  We may be able to help deliver and pick up the rv to and from your reserved campground or rv park.  We will consider this on case by case basis, time and distance permitting.  Please inquire.
Pet Policy:
Dogs are permitted with pet security deposit and fees.  All pets are subject to approval and must be declared before booking.  Official service pets welcome. Sorry No cats allowed.
Limitations:
NO SMOKING INSIDE (including vaping or e-cigarettes) Towing is not permitted. Pets are allowed on a case by case basis for an additional fee and pet security deposit. Please inquire. No Burning Man Rentals Allowed.
No trips to Mexico.
Rentals outside of Idaho and neighboring states will be considered on a per rental basis.
Generator:
Generator usage includes 2 hours per day.  Additional hours are charged at $1.00 per hour. For example.  If your rental is 7 days you will have up to 14 hours included at no extra charge.
Trailer Mileage: 800 miles included for travel trailers.  Additional mileage .20 per mile.
---
Disclaimer.  All content on this website is a representation of our models, pricing and policies.  We do our very best to make sure everything is as accurate as possible.  On occasion, the information provided may need a correction.  All sales and rentals are subject to final approval by Boise Family RV, LLC.  Thank you.
---